Angela Moreno

Information
Full Name

Angela Renee Moreno

Nickname(s)

Angie

Gender

Female

Date of Birth

February 16, 1996 (age 21)

Resides in

Los Angeles

Occupation

Actress

Eye Color

Brown

Hair Color

Dark Brown/Black

Romances

Billy Unger (partner)

Production
Angela Moreno
 is Billy's girlfriend. They started dating on July 25th, 2010. They have a son, named Devon.
Billy Unger and Angela Moreno are a cute happy couple. They have since gotten a dog.
Billy and Angela got married in Paris in 2015.
They went to Disney Land together several times.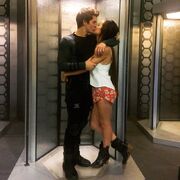 They both have a Spiderman shirt.
They live together and have a black cat named Jynxx.
They went to Coachella 2015 together.
They went to the premiere of Marvel's Avengers: Age of Ultron together.
Fanfiction
Edit
"I wanna make a difference in as many lives as I can, including my own."
To view the Angela Moreno Quotes page, click here.
Userboxes
Edit
CodeName: Angelilly
| | |
| --- | --- |
| | This user ships Angelilly |
CodeName: Angelilly Kiss